VIETNAM
Through the Eyes of the Phoenix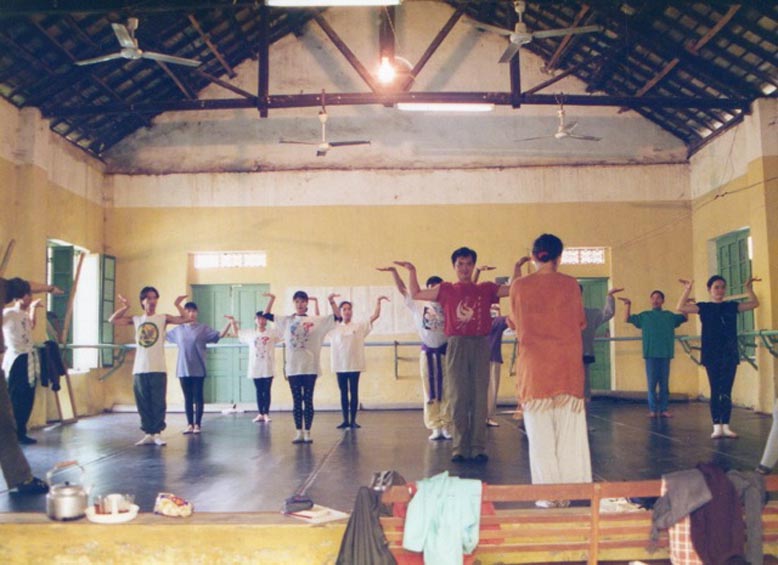 Tina Yong rehearsing dancers



Left: Pham Anh Phuong, Sarah de Jong,Tina Yong and daughter,Cheryl Stock ,Michael Pearce and Sun Ping in street with theatre banner
Right: Cheryl Stock with dancers in studio
 
Through the Eyes of the Phoenix / Qua Mat Phuong Hoang – Vietnam Opera Ballet Theatre
Michael's interest in Vietnam began in 1997, as set and costume designer with four Australians collaborating on an Australian /Vietnamese cross cultural dance theatre production with the Vietnam Opera Ballet Theatre (Nha Hat Nhac Vu Kich Vietnam). Through the Eyes of the Phoenix was conceived, co directed and choreographed by Cheryl Stock with Tina Yong and Sun Ping, music by Sarah de Jong and the Vietnamese composer Pho Duc Phuong. Performed by 22 dancers of the company with an on stage orchestra of twenty,the work drew on traditional Vietnamese, French colonial and contemporary Western influences with the Phoenix being the symbol of rebirth.The work was performed at the Tuoi Tre Theatre in Hanoi, filmed and shown on national television.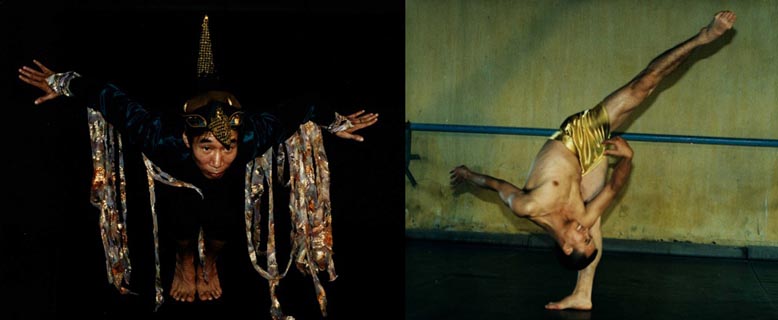 Left: Cong Nhac as the 'Traditional Phoenix' xxxxxRight: Minh Thong rehearsing for Through the Eyes of the Phoenix Photos: Vu Long
Asialink Residency 1997/8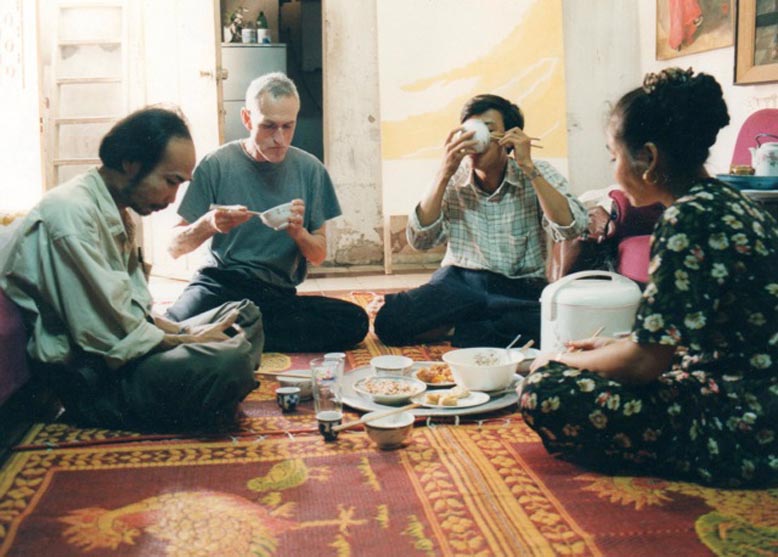 Lunch at the home of Design lecturer Hoang Song Hao, Michael Pearce, teacher Vu Dinh Toan and Hao's wife Diep.

Asialink Residency – Hanoi Academy of Theatre & Cinema
In 1997/98 Michael was awarded a four month Asialink Performing Arts Residency at the Hanoi Academy of Theatre and Cinema. Teaching stage design, he also collaborated and mentored design and acting students in a production of David Williamson's Travelling North. The play, showing the conflict between individual happiness and family loyalty, a theme relevant to Vietnamese audiences, was co-translated into Vietnamese by it's Director Nguyen Dinh Thi .
The production was funded by the Australian Embassy in Hanoi and presented at the Cong Nhan Theatre in central Hanoi.

 Left: Design class xxxxxRight: Thang with design exercise.


Left: Students Hop, Thanh and Phong discuss their design with director Nguyen Dinh Thixxxx Right: Travelling North in performance
Unravelling /Kham Pha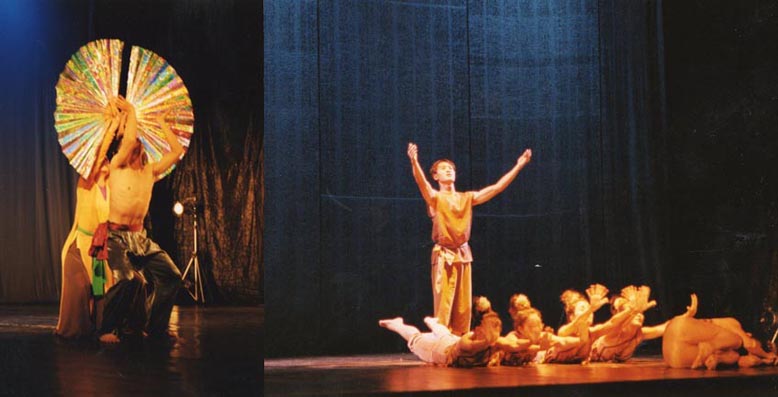 Left: Mother/Sun Choreography by Tran Thanh xxxxRight: Tumble Weed Choreography by Quang Minh

Unravelling / Kham Pha – Vietnam Opera Ballet Theatre
In 2000 Michael again collaborated with Cheryl Stock and the Vietnam Opera Ballet Theatre, designing and mentoring young designers in a dance and design project of new works by seven emerging Vietnamese choreographers. The works in Unravelling / Kham Pha were contemporary in style and drew on Vietnamese dance and cultural traditions. The project facilitated the collaborative process between choreographers and designers and included recent design graduate students from the Hanoi Academy of Theatre and Cinema.

Left: Choreographer Mai Anh rehearses Human Trilogy xxxxRight: Unravelling Choreography by Cheryl Stock

Flow /Chay 

s
Flow / Chay – Exhibition in Hanoi
In 2002 he exhibited his drawing installation flow/chay at Nha Trien lam /Exhibition House, in Hanoi. The works, influenced by his Asialink residency, drew inspiration from 'La Han'- the wooden statues of Buddhist monks in the Tay Phuong Pagoda outside Hanoi. The exhibition, supported by Arts Victoria and the Australian Embassy in Hanoi, drew large numbers with many artists attending, giving Michael the opportunity to meet and contact local contemporary artists. These meetings inspired his fluid series of drawings, developed further during his second Asialink residency.


Asialink Residency 2005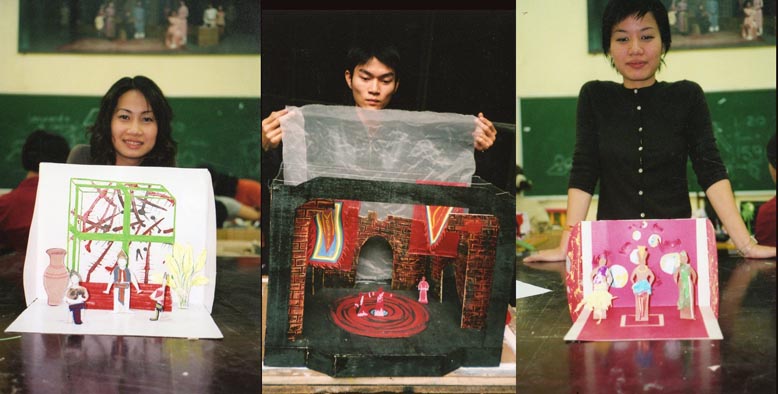 Left and Right: Students Phuong and Trang with designs for children's legend.xxxx Centre: An with Romeo and Juliet model.



Left: Thang's Romeo and Juliet dance design. xxxxRight : Ngoc prepares Romeo and Juliet set model for exhibition


Asialink Residency 2005 – Hanoi Academy of Theatre and Cinema
Michael received a second Asialink residency in 2005 and returned for a semester to the Hanoi Academy of Theatre and Cinema, focusing on teaching design for dance. Among the design projects the students produced set models and costumes for a Vietnamese dance version of Romeo and Juliet, exhibited as part of the Academy's 25th Anniversary. During the Residency the visual art contacts made whilst exhibiting flow were resumed, providing continuing research material for his fluid series of drawings.

Left: Artist Le Quang Ha in his studio, 2005. xxxxRight: Artist Truong Tan and his Dancer installation, Hanoi 2005.


HONG KONG
Artist in Residence 2007 & 2009

Left: Drawing students build an imaginary city from scrap cardboard. Right: Sketching their imaginary city.

Left: Life drawing class xxxxRight: Scenic Art students Jennifer and Winky with their dance performance backdrop.

Artist in Residence – Design xxxThe Hong Kong Academy of Performing Arts
For a semester in 2007 and 2009, Michael was invited to be Artist in Residence – Design, at the Hong Kong Academy of Performing Arts. Teaching drawing, design and performance making, he also mentored and supervised students design sets and costumes for the School of Dance performances, and an education program for The Hong Kong Ballet. The 2007 Residency provided the stimulus for the drawing series Hong Kong Unwrapped with some of the works exhibited at the Academy Gallery during his 2009 Residency.

Michael's Hong Kong Unwrapped exhibition. Hong Kong Academy of Performing Arts Gallery, 2009